Europa Nostra and partners host virtual workshop on heritage and climate change during #EURegionsWeek 2020
Is cultural heritage part of the past or the key to our future? Join the discussion during our virtual workshop at the #EURegionsWeek 2020!
The European Week of Regions and Cities (#EURegionsWeek) is the biggest annual event dedicated to regional policy. Due to the COVID-19 pandemic and the related health and safety measures, this year the #EURegionsWeek will take place fully in digital format and will spread over three consecutive weeks from 5 to 22 October. Read the entire programme here.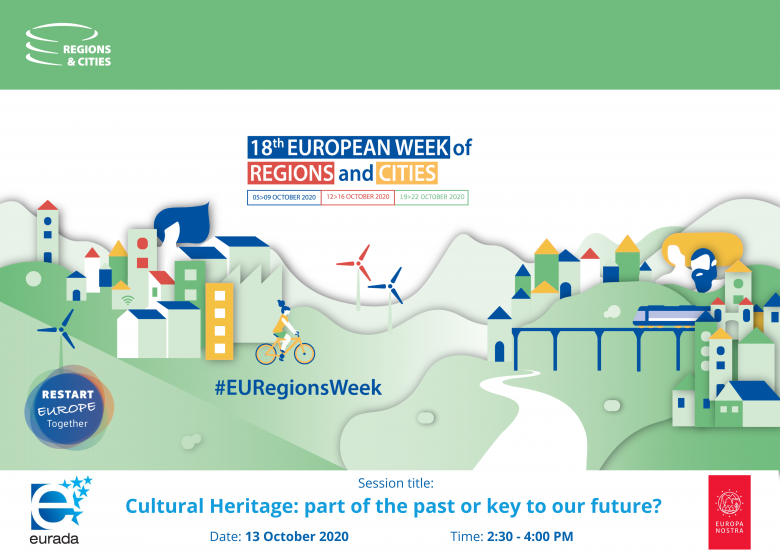 In the 18th edition of the #EURegionsWeek, Europa Nostra is proud to team-up with EURADA, POCITYF and DURA to organise a virtual workshop entitled 'Cultural heritage: part of the past or key to our future?' on the timely topic of cultural heritage and climate change. Join us on 13 October, from 2:30 to 4:00 PM via Zoom, to discuss the role and potential of cultural heritage for climate action and to contribute towards achieving the ambitions of the European Green Deal.
What is the virtual workshop about?
The primary push to mitigate climate change in Europe today comes from the European Green Deal (EGD). Among its many aims are calls for more energy-efficient, circular and climate-proof buildings, to be achieved in part through a wave of careful building renovations. However, the texts laying out the EGD do not directly refer to cultural heritage. This workshop aims to demonstrate how heritage is an issue of utmost importance to the EGD and so show the role of heritage in achieving these green ambitions. It will build on the European Heritage Green Paper currently being developed by Europa Nostra in cooperation with ICOMOS, as well as presentations of initiatives that two European heritage cities, Dubrovnik in Croatia and Évora in Portugal, are implementing to speed up the green transition.
Speakers:
Andrew Potts, Coordinator of the ICOMOS Climate Change and Heritage Working Group (CCHWG)
Mato Mojaš, Dubrovnik Development Agency, partner in the Interreg-funded ADRION project
Nuno Bilo, Évora City Council, partner in the H2020-funded POCITYF project
Moderator:
Sneška Quaedvlieg – Mihailovic, Secretary General of Europa Nostra
How can I join?
Registrations are now open (register here). Due to limited capacity (150 max), we encourage you to register today and spread the word among your network!