Destination of Sustainable Cultural Tourism Awards 2022: Apply by 1 June
The deadline for applications has been extended.
Applications can be made by 20 June 2022 (17.00 CET).
The 2022 edition of the Destination of Sustainable Cultural Tourism Awards is now open for applications. The theme of the fifth edition of the Awards is "Relaunching European Tourism through Cultural Heritage & Digitalisation".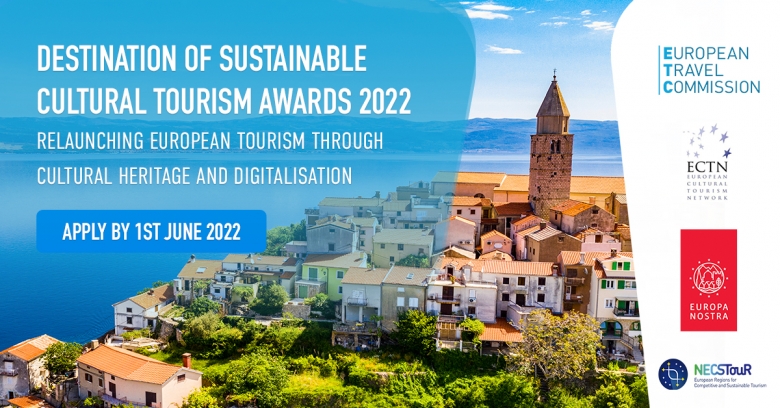 The Awards scheme is organised by the European Cultural Tourism Network (ECTN) in partnership with Europa Nostra, the European Travel Commission and NECSTouR, and supported by the European Association of Archaeologists (EAA), Interpret Europe and the ReInHerit Horizon2020 CSA, with the aim of encouraging the development of sustainable tourism destinations around Europe. It was launched during the European Year of Cultural Heritage 2018 and seeks to contribute to its legacy.
The Awards will be given for achievements by cultural tourist destinations which have
produced significant results related to enhancing visitor experience while respecting traditions and involving local host communities. They are open to all tourist destinations across Europe, national, regional and local authorities, tourism boards and associations, destination management organisations, museums, interpretation centres, cultural routes, festivals and cultural NGOs.
The 2022 Awards address the following heritage-related aspects of sustainable cultural tourism development and promotion:
1. Cooperation between Museums and Cultural Heritage Sites (including European
Heritage Label sites), in relation to the 'ReInHerit' Horizon2020 CSA;
2. Medieval Heritage and Archaeology (supported by EAA – European Association of
Archaeologists);
3. Digitalisation in Sustainable Cultural Tourism, towards Smart Destinations;
4. Transnational Thematic Tourism Products, including European Cultural Routes (involving at least two countries);
5. Promoting European Heritage to Young Visitors and Travellers (in the framework of the European Year of Youth 2022').
The applicants must address one of the above themes and present projects/initiatives that have been completed during the past 3 years.
This year's winners will be announced at the Awards Ceremony to be held during the 15th International Conference for Cultural Tourism organised by ETCN on 19-22 October 2022 in Krk, Croatia.
The deadline of applications is 1 June 2022, 17.00 CET.
For more information about the 2022 Destination of Sustainable Cultural Tourism Awards and how to apply, please visit the ECTN website, where you can download the call for entries and the application and declaration forms.