#Youth4Heritage – Reimagining cultural heritage skills to embrace the digital and green transition
On the occasion of World Youth Skills Day and as a contribution to the European Year of Youth 2022, Europa Nostra and ESACH – the European Students' Association for Cultural Heritage – are organising a webinar entitled "#Youth4Heritage – Reimagining cultural heritage skills to embrace the digital and green transition" on 15 July from 12:00 to 13:30 CEST.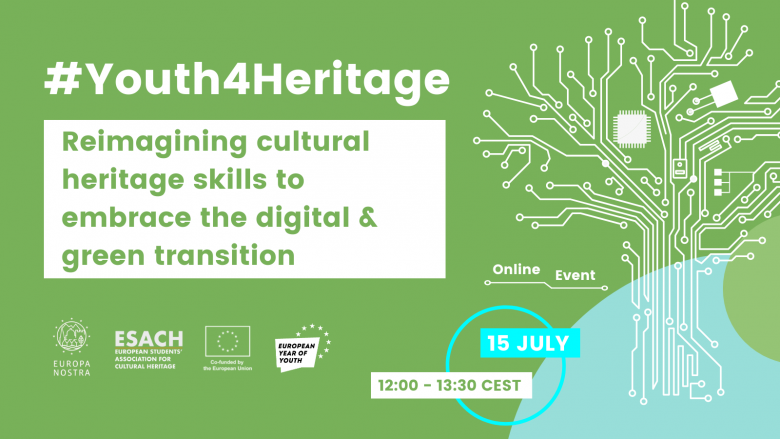 This practical event aims, on one hand, at promoting the strategic importance of equipping young people with skills for employment, decent work and entrepreneurship in a society transitioning towards a sustainable model of development, and, on the other hand, at empowering Europe's youth and making their voices heard to build a future that is more sustainable, inclusive and digital.
The webinar is designed for all young heritage professionals, students and enthusiasts who wish to get insights from (young) experts in the sector, exchange with their peers and make a difference for the future of cultural heritage in Europe.
During the event, young heritage experts and invited guests will share their best practice examples and views in order to tackle the following questions: What are the existing gaps? What solutions can be found? What is the young generation already doing? There will also be a space for participants to exchange their experiences, opinions and ideas in a friendly atmosphere.
The event will take place online, via Zoom. We invite you to register through the button below. After registering, you will receive a confirmation email containing information on how to join the meeting. Due to limited capacity, we kindly ask you to register as soon as possible to secure your spot.
DRAFT PROGRAMME
Moderated by Jasna Popović, European Heritage Youth Ambassador
Welcome by:
• Sneška Quaedvlieg-Mihailović, Secretary General of Europa Nostra
• Carlota Marijuan Rodriguez, President of ESACH
Inspirational pitches by:
• Alejandro Quecedo del Val, Youth UNESCO Climate Action Network YoU-CAN (video message)
• Emilia Sanchez Gonzalez, Digital media coordinator at ESACH (video message) & Vibhuti Yadav, Web Editor at ESACH
• Sara Furlanetto, Co-founder of Va' Sentiero, 2022 European Heritage Awards / Europa Nostra Awards laureate
• Tiago Candeias, European Heritage Youth Ambassador
• Evangelia Paschalidou, ​Europeana Network Association Climate Action Community Steering Group
Presentations:
• The CHARTER project by Herman Bashiron Mendolicchio, Project Manager, University of Barcelona
• The Future is Heritage Summit by Else Gootjes, Erfgoed Gelderland
Moderated tour de table/exchanges with the audience
Wrap-up & Conclusion
The #Youth4Heritage-related activities are co-funded by the Creative Europe programme of the European Union through Europa Nostra's network project "European Cultural Heritage Agora: Empowering Europe's Civil Society Movement for Heritage" (2022-2024).