THE POWER OF TOGETHERNESS
Message by Europa Nostra's Executive President and Secretary General
(As an introduction to the Europa Nostra Newsletter dispatched on 5 December 2020)
Dear Colleagues and Friends,
During the past months, Europa Nostra has been as active as ever, on so many fronts. Our pan-European movement for cultural heritage has gained momentum and vitality, despite these trying times. We are happy and proud to witness an intensification of the power of togetherness, illustrated by the power of our movement, the power of our partnerships and the power of solidarity.
The power of our movement is proven by our collective resilience to face an unprecedented crisis. At a time when we are compelled to stay physically apart, we have accomplished to stay closer together thanks to digital means. We have successfully organised numerous online gatherings, such as the webinar with our members and partners from the United Kingdom on 28 September, to reaffirm that "there is no Brexit in Europa Nostra". The 2020 Europa Nostra General Assembly took place in a fully digital format on 19 October. On this occasion, we paid a well-deserved tribute to our outgoing President Maestro Plácido Domingo, who, after 10 years of dedicated service to our organisation, was appointed Honorary President of Europa Nostra.
We have also co-hosted with European Commissioner, Mariya Gabriel, an unforgettable European Heritage Awards Ceremony on the evening of 10 November. Over 1,000 people from all around the world gathered online to celebrate Europe's heritage success stories and the President of Romania, Klaus Iohannis sent a special message of congratulations to the Romanian winner of our Public Choice Award and to all other winners who prove that excellence, commitment and perseverance in our heritage world know no limits.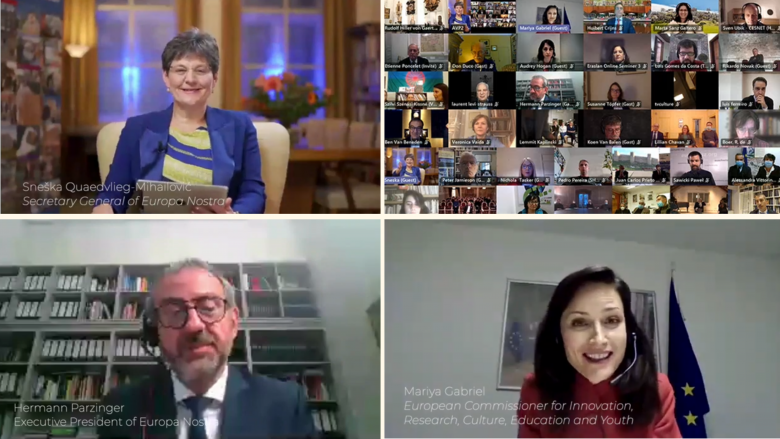 Through a series of new and well-established collaborations, we have yet again demonstrated the power of our partnerships. Earlier this month, we hosted the high-level webinar "A Cultural Deal for Europe" in cooperation with Culture Action Europe and the European Cultural Foundation. Based on these fruitful discussions which were introduced by a powerful message by the President of the European Parliament, David Sassoli, we issued on 25 November the Joint Statement A Cultural Deal for Europe: A central place for culture in the EU's post-pandemic future. This Joint statement puts forward an overarching Cultural Deal for Europe to realise the potential of culture and heritage for Europe's recovery and long-term future.
As every year, we have been a proud partner of the Best in Heritage annual conference, which this year went fully digital. In a year when we celebrate Beethoven's 250th birthday, Europa Nostra is a proud partner of the #GlobalOdetoJoy digital project, which promotes the much-needed values of solidarity, togetherness and joy at a global scale.
At a time of a distressing global crisis, the power of solidarity has been a leading light for our work. We have widely mobilised our network and knowledge to publish a timely paper on the Challenges and Opportunities presented by the COVID-19 pandemic for the heritage world. This paper provides unequivocal evidence on the impact of the crisis on the heritage field and puts forward concrete proposals to support it.
As you will read below, we have also raised our voice in defence of important heritage sites that are facing serious threats, in times of peace and also in times of war. We warmly invite you to stay tuned for the announcement on 10 December of the European heritage sites shortlisted for the 7 Most Endangered programme 2021.
We hope you will enjoy reading the rich content of this new edition of our Newsletter. The gravity of the crisis caused by the COVID-19 pandemic and the challenges ahead us call for an unprecedented and coordinated mobilisation. Let us continue joining forces and voices thus demonstrating the exceptional resilience and solidarity, as well as tireless commitment, of the heritage world. We count on you to further advance the power of our formidable cultural movement for Europe!
Cordially yours,
Hermann Parzinger, Executive President
Sneška Quaedvlieg-Mihailović, Secretary General