Towards a New European Renaissance – Message by Executive President and Secretary General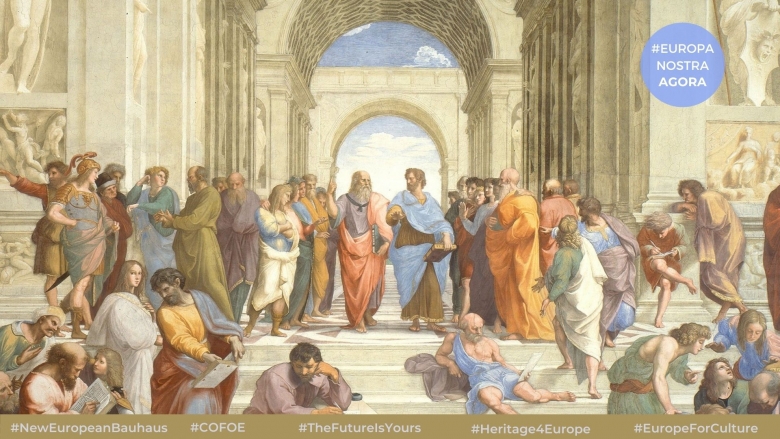 As an introduction to the Newsletter dispatched on 9 December 2021
Dear Colleagues and Friends,
In the past couple of months, Europa Nostra has been as active as ever, on so many fronts, to make sure that cultural heritage is duly recognised as a powerful catalyst for a New European Renaissance and as a vector to achieve a more humane, sustainable, inclusive and more beautiful Europe.
Ever since our European Cultural Heritage Summit 2021 held in Venice last September, we have been fully committed to implementing the 12 concrete actions included in our Venice Call to Action: "For a New European Renaissance", which was presented at the Summit and was recently released in Dutch, French, Portuguese and Spanish.
Ever since, Europa Nostra and its partners have forcefully highlighted the relevance of culture-based climate action prior to and during the 26th UN Climate Change Conference of the Parties (COP26) held in Glasgow last November. Indeed, over 15 heritage-related events – some of which at Ministerial level – were organised in this period by members of the Climate Heritage Network, of which Europa Nostra is a founding member.
Europa Nostra directly contributed to four heritage-related events organised within COP26, including the launch of the Race to Resilience Campaign by the Climate Heritage Network on 2 November. At this event, our Secretary General, Sneška Quaedvlieg-Mihailović, shared the (virtual) stage with prominent personalities, namely HRH Princess Dana Firas. On the same date, Europa Nostra's Secretary General contributed to the high-level event organised by the Greek Government, in the virtual presence of the Greek Minister of Culture and Sports Lina Mendoni, UNESCO Director-General Audrey Azoulay, European Commission Vice-President for Promoting our European Way of Life Margaritis Schinas, as well as Ministers from Cyprus, Egypt, Jordan, North Macedonia and the United Arab Emirates. Europa Nostra also co-organised the successful event "Powering climate action through heritage policies, research and programmes", held on 11 November.
The election of Europa Nostra as the new Regional Co-Chair of the Climate Heritage Network for Europe and the Commonwealth of Independent States on 1 November was a true milestone in our Heritage4Climate mobilisation. In this new, exciting and challenging role, we shall strengthen our position to contribute, in a coordinated and efficient way, to further unleashing the potential of cultural heritage to tackle this generation's defining task – climate change. This development is also a much-welcome follow-up to our European Cultural Heritage Green Paper, which was published last March and has just been released in French and Spanish. In the past months, we have continued to widely disseminate the key messages of our Green Paper, including at European Conferences and meetings, such as the Europeana 2021 Conference "Recover, Rebuild, Grow" held on 12 November.
Our Venice Call to Action also calls for closer and stronger synergies between the investment and business communities and the heritage ecosystem. A concrete action taken in this direction was Europa Nostra's participation in the renowned Open Eyes Economy Summit 2021, held in Krakow last month. We are also dedicated to further strengthening our strategic alliance with the European Investment Bank and its Institute. Indeed, we recently undertook two joint expert missions to the Historic Cemetery Complex of Mirogoj (Croatia) and the Giusti Garden (Italy), both listed among the 7 Most Endangered heritage sites in Europe for 2021. On 14 December, we will jointly announce the 12 heritage sites in Europe that have been shortlisted for the 7 Most Endangered programme 2022.
Aiming at engaging the heritage community in the debates of the Conference on the Future of Europe, we have also re-launched our call to organise citizens' debate in heritage sites in 2022 to discuss the future of Europe. We thank our members and partners who promptly replied to this call by organising inspiring events, such as the debate "For a Europe of Culture and Heritage: from Words to Actions", co-organised in Paris on 20 October by the Collège des Bernardins, the Jacques Delors Institute and Europa Nostra, and the debate "The Future of Cultural Heritage in Europe", held online on 25 November by Hispania Nostra.
We are also delighted to inform you that our Network Project "European Cultural Heritage Agora: Empowering Europe's Civil Society Movement for Heritage" (2022-2024) has been selected for funding by the Creative Europe Programme of the European Commission. We are thrilled with this news, which will ensure the financial means to match our ambitions and continue to carry out our strategic priorities in the years to come.
Europa Nostra is fully convinced of the vital relevance and positive contribution of the heritage world to today's most pressing challenges: from climate action to the Sustainable Development Goals, and from social cohesion to democracy in Europe. This was precisely the message we have conveyed to the EU Ministers in charge of Culture at their meeting in Brussels on 30 November, to which our Secretary General contributed as a special guest, which was followed, the next day, by a very positive meeting with Mariya Gabriel, European Commissioner for Innovation, Research, Culture, Education and Youth.
At a time when recovery and relapse intertwine, we are ever more convinced that cultural heritage activities are important for building the resilience of our society and for the wellbeing and health (both mental and physical) of Europe's residents. For this reason, we shall continue mobilising the heritage community and our pan-European civil society movement to ensure, together, the best possible use of our shared cultural heritage as a vital resource for a better future for Europe.
We hope you will enjoy reading the rich content of this Autumn edition of our Newsletter. We count on your support to place our shared cultural heritage where it belongs – at the very heart of the entire European project, and as a powerful catalyst for a New European Renaissance.
Cordially yours,
Hermann Parzinger, Executive President of Europa Nostra
Sneška Quaedvlieg-Mihailović, Secretary General of Europa Nostra